Topseal GRP Roofs

For domestic flat roofs the standard Topseal system is the ultimate choice in style and performance, with over 1,000 different options to choose from and a 25-year peace of mind guarantee. Topseal is environmentally friendly and doesn't require any heat to install, making it the perfect stylish, high-performance, safe and eco-friendly flat roofing solution.
Topseal can be used on practically any type of flat roof including extensions, garages, dormer roof, parapet walls, gulleys, gutters, conservatories, orangeries etc. The versatility of Topseal will ensure that it will fit in with any ultra-modern or historic building, providing long-lasting performance and style, even in the most extreme weather conditions.
A Topseal GRP roofing system provides a number of key benefits for use in commercial and industrial applications. Topseal represents the pinnacle of style and performance, meeting all current Part 'L' regulations, it's environmentally friendly, plus it provides additional security and long-lasting protection of your building, in even the most extreme weather conditions. For technically challenging projects, Topseal is one of the most versatile roofing systems available.
Topseal is BBA approved, has fire retardant properties to BS476 part 3 EXT.F.AA and has unsurpassed longevity as a roofing product, meaning that it will continue to protect your premises for many decades against the elements. Topseal is available in any BS4800 colour, with a choice of smooth, aggregate or non-slip finish and can be used for roofing, tanking, lining, gulleys, pipes in any pitch from horizontal to 90 degrees vertical.
Topseal is used extensively as a lead replacement or alternative to copper for roofs, gutter linings and complex architectural detail work. For listed buildings Topseal can also be used to simulate rolled rib joints.
Colour matching can be achieved by using a topcoat with a lead grey or copper green finish, providing a like-for-like appearance and long-lasting performance, without the need for expensive highly skilled labour. Also with Topseal, you can avoid toxic water run-off associated with lead and copper, plus it acts as a deterrent to criminals because it is extremely strong and has no-effective resale value like copper and lead.
Topseal Green Roofs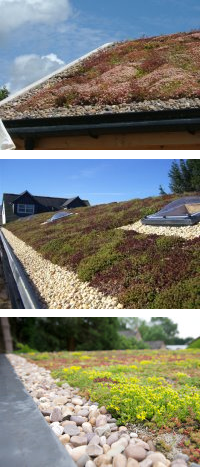 Topseal GreenTop is environmentally friendly to install and provides the ultimate green roof system, guaranteed to perform as an active green roof, for a minimum of 25-years.
Topseal GreenTop can be used to create a totally bespoke green roof or specified with Topseal's recommended sedum green roof, or even an optional wildflower roof.
With a Topseal GreenTop green roof you can help increase local biodiversity, whilst adding positively to global environmental conditions.
Apart from creating a naturally beautiful area Topseal GreenTop adds extra thermal and sound insulation to your property, whilst delivering energy savings as it protects your property from internal temperature fluctuations in the summer and winter months.
The Topseal Greentop green roof will provide you with the ideal low-maintenance roof garden. If you need extra advice or support in creating your Topseal GreenTop roof garden, contact an expert now from our technical team.